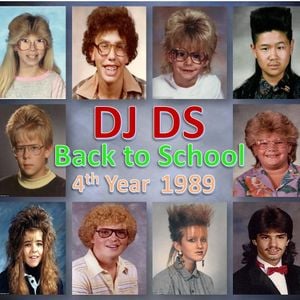 A technically exquisite mix by DJ DS. IMO, the equipment trouble that DS experienced to delay the making of this mix added to how good it is. Listen to this mix, and you'll hear how much time DS took to think about it prior to actually doing it.
It's been a while due to a broken needle but, as put by MC Lyte, this time I'm doing my thing with an '89 swing! That's right, it's time to go Back to School and to my 4th year, 1989!

As ever, narrowing this down was so tricky & this is the longest track list yet. With more time to plan it (due to the turntable trouble) there are more samples and I've hired my youngest daughter as my art director!!

By now, you know what to expect, plenty of doubles, blends and all that good stuff. I also love trying to link the tracks in other ways, through some word play, etc.

Thanks to everyone that recorded a drop for me, including both of my daughters, DJ Jimmy Green, DJ Repo & the legendary Percee P! Thanks guys!

RIP MF DOOM & Stezo who both feature on the mix.
Hope you enjoy!
On a way more important note:
Please see below how you can support Hip Hop legend Del SoulCondor who's currently battling cancer.
GoFundMe: https://t.co/ieN3Onjx01?amp=1
Save the Wax: https://rb.gy/wfddlp